Lure Coursing at Fakenham Countryside Raceday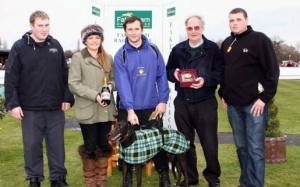 A great day out was had by all at the Fakenham Countryside Race Day on Friday 17 February!
The Kimberley & Wymondham Greyhound Club ran an eight-dog lure coursing stake before the Hound Parades, all before a full card of National Hunt racing, and race-goers were also able to let their dogs 'have a go' up the course after the lure. Enormous thanks to racecourse chief David Hunter whose never-ending support for hunting and coursing made it all possible!
 The 8-dog stake was won by Jim Daly's Hades Lady who also won a stake at the Club's October event up the same course. Runner up was Keith Parkin's Mullpark Champion trained by Julie Green, another track dog who enjoys his days at Fakenham and always runs well.